Our fair Betfair review makes a comparison between Betfair and all the other wagering websites and evaluates all special offers that Betfair provides to players. Betfair is one of the world's largest and top bookmakers and if it is laying or backing you are looking for, then it is the right place.
All new players at Betfair can claim the bet ten pounds, get thirty pounds free bet offer upon signing up but this offer is for wagers placed on the sportsbook part and not for exchange. However, it is a great deal and a three hundred percent bonus. Take a further look at our Betfair review.
Information about their license
Betfair is the world's largest internet betting exchange, Gibraltar-based thus all of its actions are under the 2005 gambling act and are licensed and regulated by the Gibraltar Gambling Commission. The operator also has a UK license 39435 and it can serve freely in the UK. In general, this means that the website is under the regulation of two very reputable organizations and it is highly trustworthy. According to the terms of the license, Betfair must:
Make sure that the underaged are prohibited from using the website for gambling.
Ensure that the bookmaker's actions are fair to all customers and totally lucid.
Assist everyone having a gambling addiction because of the use of their website.
A Betfair review of their markets
Betfair is one of the most popular names in the UK internet gambling industry owing to the many high profile advertisements on TV. They are the most active and biggest wagering exchange worldwide and provide a decent liquidity across their various markets. Their markets are:
Bandy, Australian rules, American football, bowls, basketball, baseball, cycling, cricket, boxing, football, floorball, darts, handball, greyhound racing, golf, MMA, ice hockey, horse racing, pelota, Olympic sports, motor sport, snooker, rugby union, rugby league, winter sports, volleyball and tennis. In addition, they offer more obscure markets, such as television series and politics.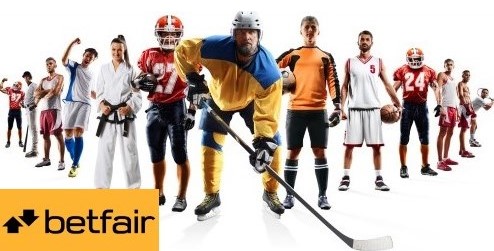 In addition to providing many great markets, Betfair has an impressive depth when it comes to these markets. You can discover odds starting from the most common matches and reaching the most obscure because their offered coverage strives to be encompassing. You just need to look at the football listings to see this:
They offer international teams matches placed beside Chilean league matches. Moreover, these are not just basic odds – there is a thorough coverage of all matches with plenty of various wagers having both lay and back options. Let us proceed with our Betfair review.
Understandably, the more peculiar the event you are wagering on is the lower its liquidity. This problem does not really concern a considerable number of markets offered by Betfair and when you make a comparison with the nearest rival Betdag you will clearly observe that Betfair are the definite current market leader.
Betfair review of their in-play option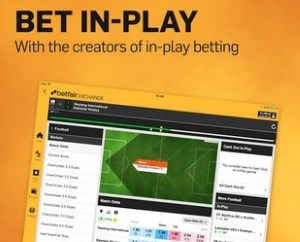 The Betfair's wagering in-play section is one of the best features of the website because it provides all you are looking for to both trade sports and place wagers live and all of these are offered in an entirely intuitive way. You are just able to go to the main page and choose the particular match, and you will discover all the odds which are changing during the ongoing match.
Betfair instantly refreshes its odds in a matter of seconds so you can keep a track of the market while people lay and back various outcomes. There is a suspension of the markets just for a few moments if some incidents that have changed the game have occurred. To trade in-play on Betfair puts bread on the table for a big number of professional internet gamblers because it is the top platform for money making you will discover in the world of sports gambling. Take a further look at our Betfair review.
Betfair's live streaming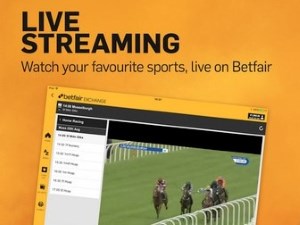 Betfair is one of the very few bookmakers providing a thorough live streaming service to all of its customers, and you can find it when you choose the live video tab on their sports page. The scope of various events shown is impressive, with football matches, great many horse races and international cricket all found regularly here. All upcoming events are shown on the window's right side so you would not accidentally skip the one you are interested in.
The live streaming by Betfair is free no matter trough desktop or mobile betting version but to observe live horse racing, you have to have placed two pounds or more amount of wagers on the race. You can access all other sports without the need of placing a bet.
Betfair review – Currently offered promotions
In order to attract more customers to the website, Betfair offers bonuses and promotions. However, their number is quite lower than this which the other internet bookmakers provide. Currently, you can find two ongoing promotions on their website:
Thirty pounds for free for all sports – when you register at Betfair, you will get a thirty pounds free wager if you place your initial ten pounds at odds of 2.0 or more using their sportsbook.
Racing multiples (about horse racing) – multiples on their website are popular to be competitive, so if you are a horse racing fan you should definitely check it out.

Interested in betting tips? You can find out more about if you click
here
.
The thirty pounds free bet by Betfair
You will discover that the current offer by Betfair to all their new users is a free bet up to thirty pounds when you sign up for a new account (there is just a ten pounds trigger) The offer applies only to wagers placed via the sportsbook section and not the exchange for betting.
This is where we need to begin downgrading Betfair in our Betfair review. They are striving to attract their users to the sportsbook when quite likely the users registered because of the betting exchange. It is not fraudulent, but it causes a confusion, and certainly, they make a bigger profit from the sportsbook, so it is somehow sneaky.
In order to claim this bonus, just follow these steps:
Visit the Betfair's website.
Click on either one of the join now links or the green claim now button on the homepage.
Enter the requested details and create new password and username for your new account.
Log into your new account and make a deposit of ten pounds or more, using your method of preference.
Place a ten pounds wager on whatever market at any possible odds of 2.0 or more, and then you will be able to claim your thirty pounds free bet.
Please keep in mind that there are terms and conditions applying, you can check them before clicking on join now.
Betfair review – Explanation of the B rating
We give a rating to all our evaluated bookmakers and the rating is based on the website's quality and the treatment of players. We have given Betfair a B grade which is the fourth best. We think that there are several issues that you need to be aware of and because of these, we have not given Betfair a higher rating.
The initial issue with them is the mere fact that they are far too willing to burden their users with the cost of financial transaction processing. A big percentage of the Betfair's options for deposit will cost customers a lot when used, and we think that Betfair should pay the processing fee of 1.5% that they charge clients with.
While approaching the end of our Betfair review, we should say that besides the deposit fee, there is one, an even more troubling issue we have encountered at Betfair. In July 2011 they took the decision to increase the commission for any player who has won more than two hundred and fifty pounds to forty percent and more. In general, this means that if you have had success with your high stakes when using the exchange, Betfair want to get rid of you, despite that they match wagers between people and are not an actual bookmaker. They do not lose anything when people win; they even take a commission on the winning wagers and because of this, their stance seems ridiculous. We do not like it, and it is likely that they come up with another increase of their commissions.
So it is not very nice, but still, they are the top exchange for betting in the world, and if you would like to both lay and back wagers Betfair is still your single legitimate source, and it should be mentioned in every Betfair review.