Live betting, which is also commonly known as in-running or in-play is understood as the ability to place a bet on a match while it is still going on. At many sports betting websites you have the possibility to place a bet not just on who will be the winner, but also on unique options. Let's take for example tennis betting. In this case, in addition to set winner and match winner, you can place a bet on the outcome of each point, next game score, next game to deuce, current race to five games and multiple other options. Despite that many sports betting websites provide in-play wagering, when the number of games is taken into account, as well as betting odds, the number of markets and software, you can find prominent market leaders for each one.
Top Live Betting Websites
Which betting websites to select for your live betting depends largely on the certain sport wagered. For football, or soccer, you should definitely give Asian Bookies a try, they are arguably the top place for in-play wagers. For instance, 188bet.com offers 1.94/1.94 European odds base on Asian handicap which is truly hard to beat. In addition, they offer more than 4500 football matches each month available for in-play betting, which include all the popular leagues and many leagues from all over the world, many of which are not provided by the competitors.
The One for American Sports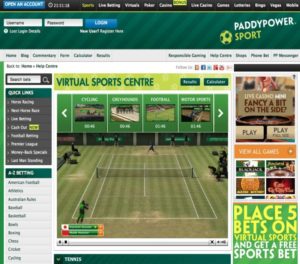 The top sportsbook with certainly the top live betting interface and offering most markets for hockey, American football, basketball and baseball, is bookmaker.eu. Although the competition claim to provide in-play betting, they offer it via an ancient interface with limited markets. 5Dimes as an example, at this website you will see only totals and point-spreads via an interface with which you have to refresh your browser during commercials. bookmaker.eu however, provides an exquisite betting platform where the totals, moneylines, point spreads and many propositions are all updated in real time without you having to refresh them. The specialists behind this site are very creative. As a passionate fan of live betting NFL football, I choose often their services and each week I discover at least one totally new proposition. To sum up, this site is simply the best for American sports live betting, without a real competition.
The Top Sportsbook Overall
In our opinion, the top site for placing live bets is undoubtedly the world's biggest internet betting website, which is of course Bet365.com. If you check the sites of their three biggest competitors – William Hill, Ladbrokes and Paddy Power on a Monday night at 5pm GMT, you might be offered one to three football matches and just a single match for each of volleyball, cricket and hockey with availability for in-play betting. Making the same check at Bet365 you will most likely be presented with eight football matches, five basketball matches, five tennis matches and one to three matches for each of floorball, cricket, handball, hockey and volleyball. The major difference here comes from the fact that Bet365 is a true giant, a global brand with an availability of dozens of currencies and languages. On the other hand, their prevalence is not just about providing the biggest coverage; Bet365 also provide the best in-play betting interface. At their website you can choose from tons of betting options for every match and all of them are updated in real time without you having to refresh, they offer special alerts and sounds making their overall scoreboard much more fun and provide live streams for many of the offered matches.
The Top Odds
We think that the top in-play odds are provided by Betfair. On the other hand, their website should not be used blindly. The reason is that Betfair is not a classic sportsbook/bookmaker but is rather the world's biggest peer to peer betting exchange.
Warning About Live Betting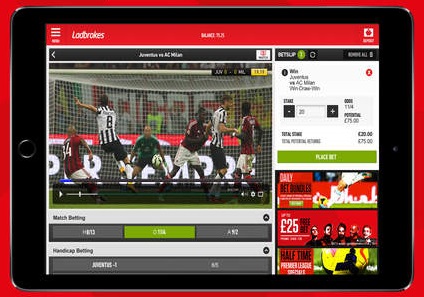 When betting in-play, it is essential that you only do it with bookmakers with a great reputation and even in such cases, you still face some risks. For instance, recently centrebet.com cheated a customer for two thousand and five hundred euro over a live bet. This is an example of a reversal of the common practice. The usual situation is a betting website with a low reputation to cancel a winning bet with the claim "past post". Which means that the customer placed the bet after the results were already known or had advanced knowledge of an injury, goal or a similar occurrence. Past posts occur and every bookmaker has the right to void such bets but it should be done immediately. In the case when the bookmaker has waited until the end of the match to make a past post claim, it is quite likely they are freerolling. The bet is voided because it wins and stands if it loses. This is the reason why it is crucial to adhere to companies with a good reputation such as Bet365 and Bookmaker when you choose in-play betting.
The Strategy Behind Live Betting
Many sports betting fans mistakenly believe that placing live bets is a new thing specifically intended for recreational punters. Let us give you a few suggestions about how to take a real money advantage of live betting:
Slow starts: let's say you notice a certain football club who started slow in all their recent victories but eventually finished strong. If they are usually the favoured team and you intend to place a bet on them, what is the sense of doing it prematch? Instead, you can wait for the drop of the odds via in-play betting and you can place the same bet at better odds.
Quick starts: this applies more to American football and less to soccer. In every season you can see teams with great stats that eventually manage to lose important games. A great example is the 2011/2012 when Philadelphia eagles faced big composure issues and surrendered more late game advantages than anyone else. If you thought that the reason for this is something other than luck then all you had to do to take advantage was to place a bet against them for any game they had a lead late within the third quarter.
Generated Odds
We have shown only two examples. There is a considerable number of very talented sports bettors who get most of their winnings from in-running bets. In-play odds are computer generated with intricate mathematical algorithms. On the one hand, the generated odds are almost impossible to be beaten in a long term using random bets but on the other, these odds can still be exploited. The reason is that sports are not totally mathematical, with them come purely human factors that can't be always recognized by the odds generating system. When you watch the sports patiently and observe how certain teams behave on the field, their motivation, composure, etc. a keen eye and a good reader of the body language is able to beat the computer in some spots. Just make sure that if you are a novice when it comes to live betting that you take your time and bet responsibly. A lot of bettors lose grip of their emotions and let them ruin their strategy. This applies specifically to the moments when you have just seconds to decide on a bet, which is a very different situation than pre-match bets where you have time to analyse the situation for hours.
Players and Bookmakers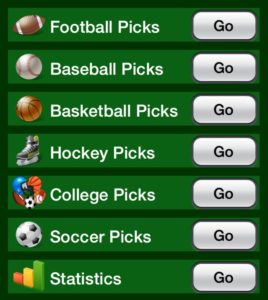 Wagering in real time has already become so common for several reasons. It is really exciting and much fun and gives the opportunity for interaction and betting during the whole sporting event. However, it could come with certain issues and you have to be able to analyse these situations. Since people have a zeal for both money and sports, live betting games could bring big profits to the bookmaker. Many people rely on their gut feeling and ground their decision solely on luck and instinct. Whether you believe it or not, in fact, you can discover some wonderful value betting options in live sports betting. The successful strategy is to keep a level head and watch for the bets that are very close to even. All the time you will find bets with preposterous values. Avoid them. Instead, choose lower percentage payouts on less common wagers that usually don't seem exciting to most of the people. You can sustain long term winnings from these kinds of wagers.
Important Information About Live and in Play Betting
The natural development of wagering on sports has come to the point where the live feature of any betting website is their main option. The popularity of live betting has increased so quickly that a stunning statistics shows that live wagers take the mind blowing eighty percent of all online bets, compared to only twenty percent for pre-match wagers. Offering an in-play console positions any bookmaker on a totally new level, with providing multiple extra wagering options, more flexible odds and some convenient features, such as live streaming that are meant to enhance your personal experience and facilitate your decision for the right wager.
The Top Internet Live Betting Consoles
On this page, you can see an overview of the live platforms that our featured bookmakers offer. You can see that all of them provide the option for in-play wagers to their customers and honestly we wouldn't even list a bookmaker that doesn't offer live services.
It is not surprising at all that Bet365 is our best live betting operator. Their basic advantage is that a gigantic portion of the featured markets in the website is available in their live section. And not just this, you can find more than fifty thousand top sports events annually streamed – football, basketball, tennis, volleyball and many more. The in-play betting feature is perfectly set for mobile devices, runs flawlessly and is very user-friendly.
Of course, the other featured operators are not bad at all. They provide alternative options that could match those of Bet365 on many levels. It is essential to keep in mind that all of them work smoothly and that when you choose your preferred bookmaker you will be offered an excellent live betting service.
Why Choose Live Betting over Pre-match Betting?
To be totally straightforward, both in-play and pre-match bets have their positive aspects, depending on what kind of experience you would like to have. The most apparent advantage live bettors are presented with is the boundless flow of extra exciting wagering options that are not available pre-match. The quickest ones will also really enjoy live betting as these kinds of bets provide very quick altering of the odds and the bettors can easily get a juicy winning if they predict the outcome of a major event. Live sports betting is suitable for those who are highly determined, rely on their gut feeling and could make really fast decisions. If you think that you could be one of these players, we suggest to test it in action.
Live Streaming and Live Commentary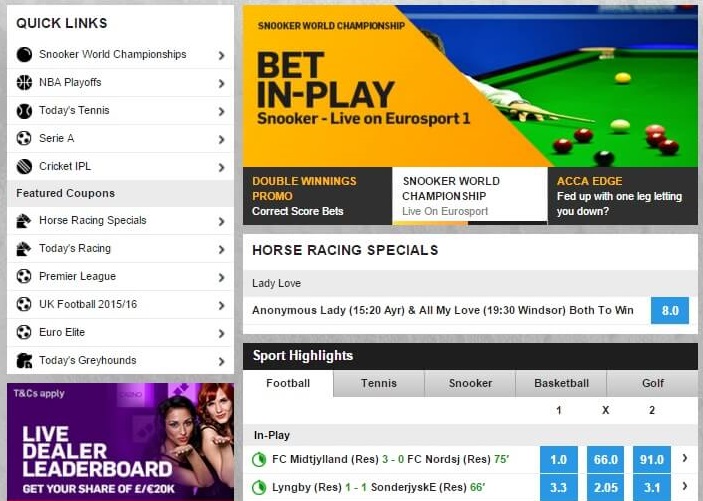 A lot of bookmakers in the UK, as well as many all over the world, chose to employ the live streaming of games as a marketing move to attract more customers and keep them excited. When this feature is offered by a bookmaker, a tiny flash box will show the game live as it is shown on television. In a great opposition to the different streams you can discover online, those at our featured websites come with no delay at all and in addition are entirely safe and legal. Without surprise, Bet365 again is our best recommendation for live streams. This Stoke –  based operator offers a superb broadcasting online, offering great quality streams for different high-profile games included in the sports calendar. You should keep in mind that if you want to be eligible for the live streaming, there are some minimum requirements that have to be met. And these are not technical ones (they are very simple –flash player and well-running machine), but at Bet365 you should fund your account in order to be able to watch the live feeds. Other operators as well, especially with horse racing, require a minimum one pound bet placed if you want to watch the live race.
One of the basic disadvantages of live streaming is that the streams are not in full screen and especially in the case of football, the top international and club competitions don't have a coverage. For some of these games, it is possible to find audio commentaries which can't be compared to live video stream but is better than nothing at all.
Essential Criteria for a Decent Live Betting Operator
Similar to many other decent services that comprise a good product, each live betting console involves plenty of difficult work and a very long time spent for it. All the top live betting operators offer developments with many features that facilitate smoothly your decision when placing a bet. In the following sections, you can take a look at a short overview of the most distinguished live console sections you could encounter when playing online.
L

ive

B

etting

Overview

The overview mode is the first section you are transferred to when you enter any live console. All most important ongoing events are on display along with their most popular bets. Without much difficulty, you can scroll the page, take a look at all fixtures and choose the best bet at any particular moment. Because of the bound screen size, the overview mode in many cases is a little different for a mobile where the events are clustered in similar groups according to the sport.
The Event View
After you have made your choice for a live game, the next thing to do is to go to Event View mode, where you can find all the possible wagers for the particular event. The live coverage most often begins if it is available for the event and you can see a space with crucial information about the ongoing event above the wagers. For instance, when the game is a football match, the board will quite likely present information about goals scored, cards and corners.
The Multi View – Design Your Own Layout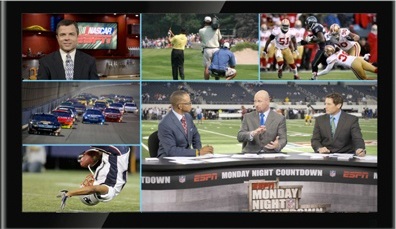 In general, Multi View is a smooth mixture between Overview mode and Event View mode. This section offers you the opportunity to alter the design of the live console according to your taste which includes only the events you wish to see. This could be done in a simple way, the only required thing is to choose, drag and then drop your selected fixtures. Unfortunately, not all internet bookmakers provide this tool, but the best ones, such as Paddy Power and Bet365 offer it and it is on a very decent level.
The Live Graphics
We have already taken a notice that one of the few disadvantages of live streaming is its limited supply. However, the best bookmakers do a great job to balance that in all possible ways. Their live graphics are very nice, but sadly not a real alternative to the video/audio coverage. You are not able to hear or see the action but you get a basic idea of it. Bet365 provide graphics combined with the essential statistics which makes your task even more easier.
The Schedule
The in-play schedule is another crucial feature of the live console. You will not be able to place your wagers there because the feature has solely informative purpose, but it is in addition a place from where you could jump to all pages about upcoming fixtures. Besides the link, the schedule informs you about the kind of sport, the starting time of the event and whether it comes with a coverage. It is different with all bookmakers but some of them offer a schedule ahead in time for up to a week.
The Cash Out
The in-play Cash Out is somehow new feature that is still gaining prominence but has already become very common among internet bettors all over the world. The requirement is a customer interaction, as they become responsible for their wager's destiny. At a certain point when your wager is still in a proper position of winning, the bookmaker may offer you the chance to close your bet and claim a percentage of the winnings. It is a wonderful option when you face insecurity about your bets or would like to diminish optional losses.
The Quick Bet
This is another wonderful addition that is available nowadays just at some of the uk betting websites. Our winner Bet365 is one of them, as well as Paddy Power and Coral. The fast wagering option is moved by a tiny on/off button and offers you the chance to place your bets live within seconds, where you can set your wagering value in advance. Quick bet is a wonderful option for tennis and other sports with quickly altering odds and markets and we definitely recommend giving it a try.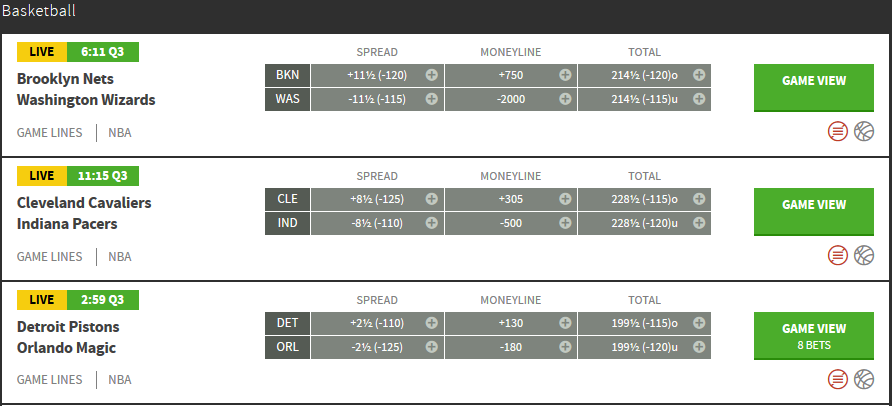 The Range of Markets
It is of crucial importance that the scope of covered markets by all live betting consoles is broad enough to cover the customers' needs. Of course, the availability of tennis and football is certainly not enough. Nowadays, the top live operators provide in-play markets for handball, curling and table tennis. A full portfolio is a must for anyone to be ranked as a reputable website for live sports betting.
When it Comes to Live Odds
Regardless if you are a novice to sports betting or a highly experienced bettor, the odds will be always essential for you. The aspects that make live betting odds crucial are their ever-changing nature and their unpredictability of turns and twists. All the best betting sites strive to maintain close payout ratios for both live and pre-match betting, by maximum balancing of the odds movement.
The Compatibility of Mobile
It is not very surprising that each of our recommended operators has turned its live development to mobile devices too. The layouts here are very user-friendly and most likely you will not have any hard time when you place your in-play bets on the go. You will simply have to be a little faster and handier than on your computer especially in case you use your phone. To place a bet on a mobile device, you have to do at least a several touches and when you are already done, the appealing odds could be gone.
Follow the Outcomes with Live Score
The internet in-play wagering developments may come with another great function. Bettors can take advantage of their services as a way to follow any results they want. All consoles are very simple, you can effortlessly follow how the action goes for every fixture of your choice. Many operators provide Results section where bettors can see if they have won or not. Moreover, a lot of operators offer a specialized live score development, which is powered by the likes of GoalsFeed and Betradar.
What do You Need to do in Order to Bet on Sports Live?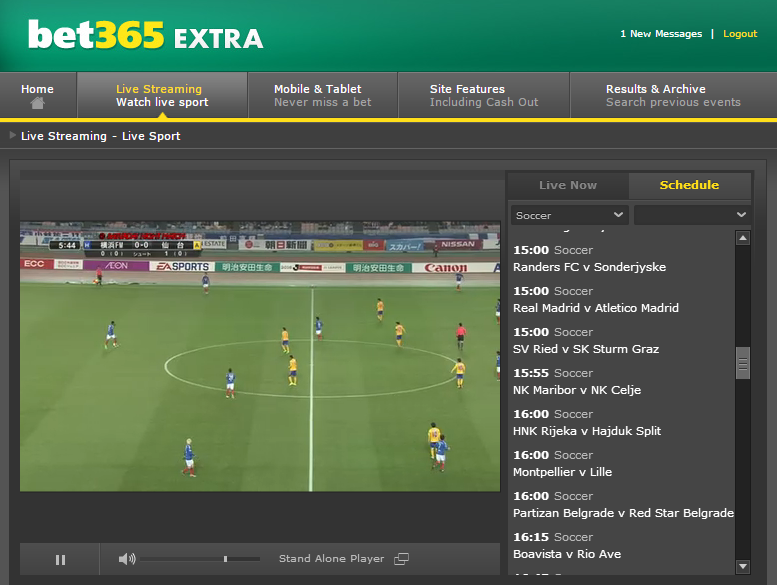 The first thing – you have to have some adventure in your blood and you have to be open for some risky behaviour. In-play bets could seem a little frightening for some bettors, but once you figure out the fundamentals, you can enter the world of serious winnings. As opposed to pre-match wagering where you have to do a thorough research if you want to discover a truly valuable wager, live betting is more about trusting your gut feeling. Always observe the action of the live streams when you have the chance and consider carefully each of your bets. Don't have a hesitation to cash out a running wager or to place an opposite wager on enhanced odds. Even the small win is a win and honestly, the abundance of live events is perpetual.
Can I be Confident that it is Legal?
The legality and regulation of all live consoles depend on the sports betting operator. There is no guarantee that all bookmakers online are safe and fair, but we do guarantee that the ones recommended by us are. They are all under the regulation of the British Gambling Commission and are monitored by agencies with a great reputation, such as TST, ESSA and eCOGRA.
The same applies to all live stream features you will discover on the web. There is nothing suspicious about the bookmakers which broadcast live action from different sports events, but you only have the permission to access them for your individual use. If you want to reproduce or copy the streams, you will have to be specially authorized by the betting company.
Live Gambling References
Ladbrokes Yanks its Live Betting Service on Government Crackdown (The

Company Cans its in-play Offer

)
Live Sports Odds Ban: Does the Government's Plan go far Enough? (Ban on Ads in Certain Situations)