This is our Skybet review. Skybet is a bookmaker online service that is offered by the giants Sky TV. On the current page, we will give you information about their website in comparison with others in this field. We will also let you know how to claim their bonus offer.
Skybet is currently offering a ten pounds free no deposit bet to all of their new players, which is admittedly quite impressive. You are now able to click on the following link and register for a new account so you can claim your free money.

Information about Skybet's license
The company has been registered under the Bonne Terre Limited name and is under the regulation of the Alderney Gambling Control Commission (with registration number 1110). In addition, Skybet holds a current gambling license in the United Kingdom. As a consequence, the company is obliged to offer certain criteria when it comes to its gambling venture, which includes:
Ensuring that all customers playing on their website who suffer from a gambling addiction or gambling caused problems receive a special guidance and assistance.
All players who are under the legal age for gambling are prohibited from using the Skybet's website until they reach the legal age allowing them to gamble freely.
All of the transactions that are carried out on the site are transparent and fair in order to prevent players from being treated fraudulently.
Betting Markets
Whenever the question of sports arises, Sky is the most prominent name in the UK, a company that covers all types of various events on their multiple television channels. This huge variety also extends to the great amount of various sports markets available on offer on the company's gambling site, thus providing something appealing to all kinds of tastes. The offered sports markets by Skybet are truly abundant:
Baseball, Aussie rules, American football, cricket, boxing, basketball, football, darts, cycling, greyhound racing, golf, formula one, ice hockey, horse racing, handball, rugby league, Olympic sports, MMA, tennis, snooker, rugby union, winter sports, and volleyball. They also have included a section on their page's left-hand side that you can use to go to particular quite common tournaments, like the Heineken Cup and the Premier League.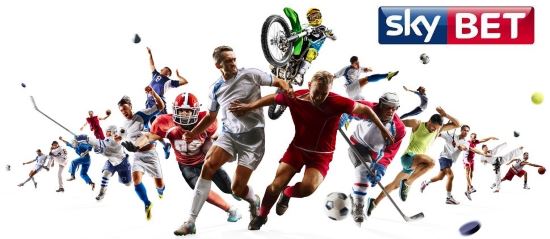 As you can see by the list of sports markets if you can find a certain sport that can be watched on Sky Sports, then quite probably you can also find a market for the sport on the gambling website. The Sky company has used its tremendous resources to offer one of the most abundant lists of sports available on the market, and it has also done everything needed that all the various sports that are covered thoroughly. As a consequence, you can be sure that from low league matches all the way through world cup battles, you can discover everything you need on their website.
Live section
As you can expect from a website of such size, Skybet also provides a thorough in-play section, meaning that you can place your wagers in real time, as the event is live and going on. There is a constant update of the odds coming with this feature, and it is provided for almost all of the ongoing matches, regardless of the particular kind of sport.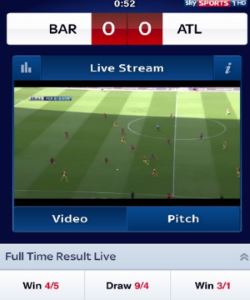 You can find the live menu right in the homepage's middle, with plenty of details regarding the match and the total of various wagers that are on offer. Once you have chosen an event, you will see a console where at the top there is the live score, the odds are below, the current state of play is displayed by a graphic, and when you click the icon with the stats in the top right, it switches to match stats. We are quite impressed by all this, we can say that Skybet has ticked all boxes here.
But, to be honest, there are considerably better live betting options online. For the best two, you can check out our reviews of Bet365 and BetVictor.
Live Streaming
Provided that Sky own the television rights to every kind of sport that is worth turning your attention to, it is quite logical to think that they will provide a superb live streaming section. The surprising thing here is that in reality, it is nothing like that.
Skybet recently cut down their live streaming service and currently only provide Irish and UK horse racing. And you have to bet at least one pound per race to be able to watch.
After all, it is pretty disappointing and when you make a comparison with Bet365 who have more than ten thousand events on their streaming service per year in addition to horse racing, it does not seem too great. As a result of this, we have been forced to downgrade Skybet at this point. You can see our page for our Bet365 review if the live streaming is essential for you – you will be taken care of there. You can also check the full schedule of the horse racing on Skybet here:
Currently available promotions on Skybet
In order to lure more and more users to their site, Skybet runs promotions on a regular basis that provide either free bets or great odds to the players. Below you can find all promotions that are available currently on their website:
Ten pounds free bet for any sport
You can stake a total of twenty-five pounds on wagers which have odds of 2.0 or more before midnight on any given week's Sunday and you will get a five pounds free bet to your account. However, if you miss a week, you will have to stake forty pounds in order to get back in.
Skybet club – for any sport
You can stake a total of twenty-five pounds on wagers which have odds of 2.0 or more before midnight on any given week's Sunday and you will get a five pounds free bet to your account. However, if you miss a week, you will have to stake forty pounds in order to get back in.
Super 6 for football
You should correctly guess the outcomes of six predetermined matches in order to win a huge payout. It is free to enter.
Best odds guaranteed for horse racing
In case a horse that is backed by you go off at larger odds that you have taken, Skybet will payout winning wagers at the larger odds. Available for all Irish and UK horse racing.
Skybet no deposit ten pounds free bet
Skybet is providing all new players with a free bet bonus when they register. It is a ten pounds free bet and the truly wonderful part is that you do not have to make a deposit at all in order to get your free bet bonus. In order to claim your ten pounds free bet bonus at the Skybet's website, you just need to follow these instructions:
Click on this link and go to skybet.com
Once you have entered their website, you should look for the 'register now' button which is located in the screen's middle.
Now you can click on the button and then fill out the required registration details.
Now you can log into your newly created account.
You will get a ten pounds free bet token added to your new account, and you can use it for betting on any market.
There are terms and conditions applying, you can take a look at their website for more details after you have completed step one.
Skybet review – B grade
After doing our thorough Skybet review, we decided that we could not give them more than three and a half stars out of the possible five. In fact, they are one of the financially secure and truly honest bookmakers, but they do not provide live streaming and they currently provide only one real promotion which negatively sets them apart from the best competitors in the industry.
A three and a half star bookmaker could be classified as a decent and safe place to place your sports bets but lacking a long-term value. We think that this is an honest and fair final evaluation in our review. On the other hand, the Skybet Club is striving for getting them promoted and in case they add some more appealing promotions we could upgrade them.
In fact, they do provide a twenty pounds free bet for all new players which is a pleasant gesture, and it comes in the shape of a four hundred percent bonus with which you just need to make a five pounds deposit. This is a great thing to consider, and we think it makes them worth choosing as a bookmaker to join.